Heat-resistant cables for extreme temperatures

What is a heat-resistant cable?
There's no such thing as bad weather, only the wrong clothes, as we say when someone complains about the rain and the cold. If it is pouring with rain, then we put on a cape or raincoat with a waterproof plastic membrane, and in cold weather we wear a jacket with a warm fleece lining. There are also different "clothes" for cables: the sheath – the outer protective cover of a cable – has of different material compositions depending on the intended use. The secret is finding the right mix and this requires a lot of expertise. Here are a few examples of how materials scientists can design the properties of cables:
The material of choice for the cable sheath is PVC (polyvinylchloride). It is inexpensive and can be easily cut with a knife, making it easier to remove the sheath – strip the cable – in order to attach the connector. PVC can also withstand temperatures of over 100°C.
At significantly higher temperatures, PVC cables can no longer keep up and cables with other sheath materials are required. Depending on the temperature range, manufacturers use polyolefin copolymer, fluoroethylene propylene, polytetrafluorethylene as well as silicone, which is also found in baking moulds and in baby dummies. These materials are able to withstand temperatures of up to 260 degrees Celsius.
If it gets hotter, the construction of the cable must change fundamentally. In such cases, both the conductive strands and the whole cable are wrapped in a mica tape and a glass fibre braid. This increases the constant temperatures that can be withstood to 650 degrees Celsius. Some cables can even withstand over 1500 degrees for a short time.
Where are heat-resistant cables used?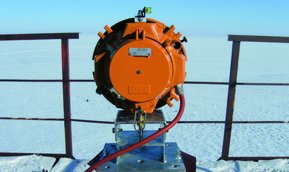 Wherever "normal" temperatures prevail, normal cables are adequate. Cables with PVC sheaths can also withstand the heat on a hot summer day, for example in a photovoltaic system. There, other properties are required, such as UV resistance. Heat-resistant cables are used wherever technical equipment can create increased temperatures of over 100°C. This is the case, for example, in the engine compartment of cars when cables for sensors are routed past hot engine parts.
Things get hotter at home in heating or ovens, in halogen lamps or in a sauna. In industry, there are entirely different temperatures, for instance, in large bakeries' ovens. Sometimes it can go up to over 1000°C in coal or gas power stations or in blast furnaces in the steel production.
Incidentally, cables that are particularly heat-resistant usually also have an extended temperature range downwards. They are also suitable for use in the mountains or the Arctic, and these kinds of cables and connectors are also in demand at winter sporting events. These components can withstand icy temperatures of -40°C or below.
What heat-resistant cables are available from LAPP?
A classic LAPP is the ÖLFLEX® HEAT 180 SiHF, a power and control cable for mechanical engineering. With its wide temperature range from -60°C to +180°C, it covers the vast majority of applications, including those where oils, alcohols and many chemical substances are used.
The ÖLFLEX® HEAT 125 MC/C MC can "only" manage 125°C. At any rate, the plastic is halogen-free, so the cable is especially suited to highly frequented areas, both in industry and in public buildings. The cable has a sheath made of radiation cross-linked plastic for better fire performance.
ÖLFLEX® HEAT 650 SC can withstand 650°C – in continuous operation. It gets its amazing properties from a nickel strand and glass silk insulation – ideal for use in power plants, on blast furnaces or in engines, but also for heating modules and cooking systems.
LAPP has a comprehensive range of particularly heat-resistant cables, and not just in its ÖLFLEX® range of industrial control cables. Some even withstand fire, such as the ETHERLINE® FIRE. It achieves very high data transmission rates of up to 10 Gbit/s with high signal quality of up to 100 metres in cable lengths. A polyolefin-based core insulation and a wrapping of the cores with a special fire-resistant tape block a flame-retardant tape for at least 120 minutes – enough time for the fire brigade to keep the fire under control.
LAPP also offers an extensive range of heat-resistant connectors and accessories such as EPIC® connectors or SKINTOP® cable glands.
Products