Lead-free cable gland


The use of lead in commercial and industrial products has fallen sharply in recent decades. However, small amounts of lead are still permitted today. For example, the RoHS Directive currently still allows up to 4% lead in copper alloys such as brass, the material used in SKINTOP® and SKINDICHT® brass glands, as an exception. However, this exception officially expired on 21 July 2021. The EU Commission has yet to take a decision on its extension. The outcome is still uncertain.
As early as 2020, LAPP was the first manufacturer in the world to present cable glands in a lead-free brass version. Together with us, take the opportunity to rely on sustainable and therefore safe lead-free cable glands at an early stage.
What is a lead-free cable gland?
Lead-free cable glands are also cable glands. The only difference is that they were produced without the previously permitted and common two to four percent lead content as an additive in brass.
Lead-free cable glands from LAPP can be identified by the designation "LF" (lead-free). This means that you get our accustomed and current cable glands, such as the SKINTOP® MS-M and MS-SC-M or our lock nut SKINDICHT® SM-M, with the same performance, also as lead-free versions.
Since its launch just over a year ago, we have made lead-free brass an integral part of life at LAPP, successfully mastered the challenge of alternative materials, and will gradually supplement other product families to include lead-free versions for you.
As the global market leader for integrated cable and connection solutions, we didn't wait, but we were the first manufacturer in the world to establish cable glands made of lead-free brass early on and to this day have expanded our lead-free product portfolio for you.
As always proactive rather than reactive – so you can react early and sustainably to upcoming changes.
What are REACH and RoHS?
In order to protect people, animals and the environment, various regulations such as RoHS and REACH have introduced prohibitions on substances and chemicals. These directives also determine the permitted lead content in copper alloys.
What is REACH?
⁠Commonly referred to as the REACH Regulation, "Regulation (EC) No. 1907/2006 on the Registration, Evaluation, Authorisation and Restriction of Chemicals (REACH)" has been in force since 2007 and is not only one of the most modern but also one of the most stringent chemicals laws. It is also a very detailed set of rules, for example, for placing of chemicals on the market and, in particular, for regulating substances with very high concern properties and high risks to people or the environment
In 2018, lead was added to the list of substances of very high concern (SVHC list: Substance of Very High Concern). As per Article 33 of the REACH Regulation, this also entails an obligation to provide information along the entire supply chain for brass. If semi-finished products or other products have been made of copper alloys containing more than 0.1% lead, this should be noted during delivery.
⁠What is RoHS?
RoHS is Directive 2011/65/EU of the European Parliament and the Council dated 8 June 2011 on the restriction of use of certain hazardous substances in electrical and electronic equipment.
The RoHS Directive (similar to the REACH Regulation) aims to minimise the release of hazardous substances into the environment. The directive serves as a guide for the respective regional regulations worldwide.
On 21 July 2021, the current exception 6c Annex III of the European RoHS Directive (Restriction of Hazardous Substances) officially came to an end.
An extension of this exemption for lead had already been requested from various market players.
« The 21 July 2021 deadline has now passed. Existing exceptions only remain valid until the EU Commission has taken a decision on the application for renewal. »
If there is no extension of the deadline, a transitional period of 12-18 months shall apply from the time the application is processed by the EU Commission. Accordingly, the maximum lead content of 0.1% in the material, as defined in the REACH Regulation, must not be exceeded in brass either.
What challenges are there when manufacturing products with lead-free metals?
The addition of lead in copper alloys, including brass, ensures good chip breaking and light lubrication. This reduces friction and thus also heat generation during the manufacture of cable glands. The low material hardness of brass with added lead is another advantage that enables fast and easy processing.
The production of cable glands using lead-free materials and the procurement of raw materials therefore entailed complex process adaptations and higher costs. Currently, lead-free brass materials are often not available in the same coverage. The tensile behaviour when processing lead-free materials is different to that with the addition of lead in the material. This means that chip removal during production is a challenge, especially if both variants of the semi-finished products are used in production.
Additional work, which leads to overall higher costs and will inevitably have an impact on the prices of lead-free product variants, especially in the transitional period.
What are the differences between lead-free cable glands?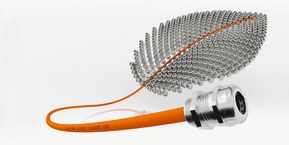 Lead-free cable glands are visually identical to those made of brass containing lead.

The product properties of cable glands with and without lead are also comparable. Both the internal LAPP laboratory and external testing institutes have confirmed that:
mechanical properties,
corrosion resistance and
EMC properties are comparable.

Both variants of the LAPP cable glands are also dust-tight in accordance with IP 68 and protected against continuous submersion up to a maximum of 10 bar and 100 metres of water depth for a maximum of 30 minutes.

Lead-free cable glands, just like those containing lead, are available to you from stock in metric sizes M12 to M63.
What application areas and environments are there?
Our lead-free cable glands are a good choice whenever the RoHS Directive and the REACH Regulation for lead are relevant for your machinery or systems.
Particularly if you manufacture or operate machines with long planning times or life cycles, it makes sense to rely on components that are lead-free and are decoupled from any currently applicable and future bans in the RoHS or REACH regulations.
Taking into account international sales markets or value chains and legislation, proactive sustainable action can also have a worthwhile impact on your planning.
How do you recognise lead-free cable glands from LAPP?
When selecting lead-free cable glands, look out for the designation "LF" in the article numbers of our products.
Products with this suffix are lead-free alternatives to the classic cable glands with otherwise the same product properties.
With our lead-free cable glands, you are therefore always on the safe side and can plan sustainably and for the long-term, even if the regulations are amended in future.